Parisian Market Escapade

From 450€
Parisian Market Escapade
Join the Chef to discover a real Parisian market, filled with traditional and seasonal products.
Return to the school to create a menu of four dishes from the products you selected.  All that is left is to wind-down and indulge with a glass of wine whilst enjoying the meal you created.
A true taste of Parisian life!
Useful information
- Class taught in French and consecutively translated into English.
- Recipes chosen by the Chef while at the market depending on the seasonal products available.
- Some steps of the recipes are carried out as a group.
- Share a convivial moment with the Chef at lunchtime while enjoying two dishes you prepared and take away the dishes prepared in the afternoon serving 1 person.
- The detailed recipes, a personalized certificate and the Ritz Escoffier school apron are given to each participant at the end of the class.
Other fancies
Gift Cards
Offer a cooking or pastry class with an Ecole Ritz Escoffier gift card. 
Whether your guest dreams of cooking like a Chef, is a vegetarian gourmet or loves luxury street food, we have the the perfect class.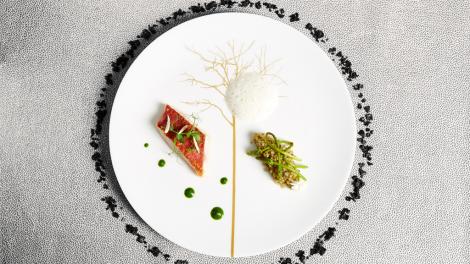 Haute Couture Cuisine
Initiation and application techniques for those who dream of experiencing the world of haute cuisine from the inside.